Quicklinks
How can you get the Welcome SMS feature?
At a glance
If the Welcome SMS feature is activated, short messages (e.g. the welcome SMS) can be sent directly via the form. This is a great opportunity to check if the mobile number is correct and therefore can significantly increase data quality. This feature is available for donor campaigns, petition campaigns, and recruiting campaigns. You can send individualized welcome SMS for every campaign.
How to send a welcome SMS:
After activation and setup of the feature, there is a Send-button right next to the field for mobile numbers. Just insert the mobile number, click on the button and the Welcome-SMS is sent. After the successful sending, under the button appears a green text with "SMS sent".

A few seconds after the button was pressed, the SMS should appear at the recipients phone. This enables the fundraiser or jobscout to check, if the number was entered correctly.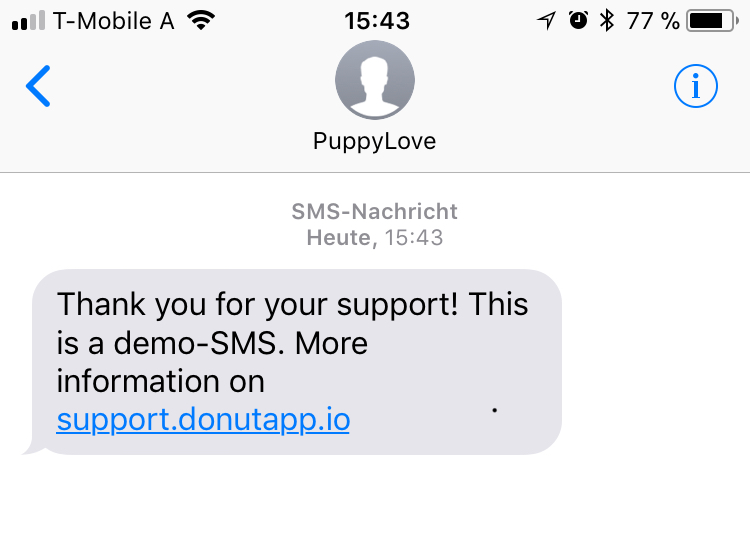 How can you get the Welcome SMS feature?
For a smooth handling of the SMS feature, we work together with an Austrian network operator who is one of the leading specialists for customer dialogue.
To set up the feature, we just need two things from you.
The desired sender name (up to 11 characters)
the desired text (up to 160 characters).
What does it cost?
We charge a small monthly service fee and then a few cent per sms, depending on the country of origin.
If you want to use the SMS feature or have further questions, just write us an email to our Customer Care Team (support@donutapp.io) and let us know for which campaigns you'd like to activate this feature.